"Know from whence you came. If you know whence you came, there are absolutely no limitations to where you can go."
James Baldwin
In 2012, I was working full-time in my career, climbing the corporate ladder, rung by rung. I lived in Toronto, I did the the same crap every weekend (translation: nothing), and I was comfortably settled in my comfort zone. I wasn't writing (not even in a journal), and a one-week trip to an all-inclusive resort in Jamaica was the only 'travel' in the cards.  I had all these grand "plans" of what I was going to do with my life, but I wasn't taking any action, and a plan without action is just an idea. Frankly, I was stuck. And I didn't have the courage to face my unhappiness.
Then everything changed.
Exactly 3 years ago today, I booked a trip that altered the course of my life. I'd always talked about Europe, and at 29, I decided it was time to go. I flew to Barcelona to see my dear friend Esther, then to Paris to watch a show at the Moulin Rouge, then to Berlin to meet my sister for the first time, and finally to Rome, to eat gelato and drink red wine.
Yes, meet my sister for the first time. Ever.
When I was a couple of weeks old, my parents gave me away. My birth parents had 3 daughters, and they were trying for a son. While my mom was pregnant, my grandparents sat her down. "If it's a boy, that's one thing. But if it's another girl…take pity on your sister."
My birth mom and adoptive mom are sisters. By the time I was born, my adoptive parents had been married for 10 years, and they'd been trying unsuccessfully to have children. My grandparents had convinced my birth mom to give the gift of parenthood to her sister…that is, if I turned out to be a girl. Spoiler alert: I did.
In past journal entries, I've written things like, "one man's trash is another man's treasure," and other dumb, self-deprecating shit like that. I didn't understand my adoption. I didn't understand my birth parents. I didn't really know what the fuck was going on. My adoptive parents raised me to believe I was their natural daughter. I used to write letters to my "cousins" in Iran when I was a child. It wasn't until I was 17 — when her own mother died — that my mom told me the truth. She didn't give birth to me, like she'd always pretended she had. Strangely, that didn't really come as a surprise. I'd sort of known I was adopted for a while. What was a surprise? Who my birth family was.  My mom's sister (who, unrelated to the story, died of a stroke when I was 2,  and was already living in Canada with my adoptive parents) was actually my mom. My 3 "cousins" still living in Iran were actually my siblings. Their dad, a man I literally had no relationship with and maybe spoke to once in my life, was my dad, too. Sort of. Talk about a mind-fuck.
Even though I learned the truth at 17, it wasn't until I was 29 that I finally had the courage to get on a plane and discover my roots. I'd had the excuse of not being able to travel to Iran, having escaped the country as a refugee when I was a baby. But then one of my sisters got married and moved to Germany, and she herself became a mother. I'd also found myself at the aforementioned crossroads during this time. So, I had a choice. I could do the same shit I'd always done, scrape by with contentment.  Or I could go on an adventure. I could escape my comfort zone, visit the places I'd dreamed about for years, and do the things I'd always talked about. I could discover my past and make a connection with someone I'd been hiding from. I could be brave.
Let me tell you, it was muthafuckin terrifying.
What would it be like, meeting her? What would we talk about? What if we had nothing in common? What if we had a lot in common and I became devastated that I only just met her? Would this change how I felt about my family? Was my Farsi even good enough to communicate with her? What would I call her? My cousin? My sister? Would we talk about the adoption? How would I bring it up? Holy fuck, maybe this was a bad idea.
The truth is that it was heart-breaking, but it was beautiful as well. Getting to know this person after all these years was very emotional. It made me deliriously happy and devastatingly sad.  Yes, we were very alike. But we were also very different. When she picked me up at the airport, she had tears in her eyes. She was 5 when I was born, so she remembered me as a baby. No one had explained to her what went on. I went from being her sister to her cousin overnight, and it confused her. She was just a kid. Two years later, her mom died. Another huge loss. When we saw each other after almost 30 years, every feeling I've ever felt bubbled up inside me.  And her eyes. They were exactly the same as mine. It was like looking into a mirror but with a different face. It rocked me to the core. Her glassy eyes — my eyes — held back the tears for dear life while we hugged, clutched each other, and then just straight-up sobbed. When we finally pulled away, she smiled and asked how my flight was. How did I enjoy Paris? How are my parents? We talked about superficial things the whole way back to her house. My heart was full, aching. I didn't know what to say. I focused on the baby, my niece, who had the same eyes, too. Y'all need to cut this freaking Twilight Zone shit out, OK?
We had dinner when we got back to her place. I met her husband, who is a very kind and hilarious man. Her daughter, who was only 3 months at the time, was already in bed. After dinner, out of nowhere, I pulled a me; with no topic sentence, no way to relate it to the conversation, I brought up the thing we were both thinking but refused to say. "So, do you remember my adoption?" She looked at her husband. He almost comically looked around, opened his mouth to say something, and then just got up and left.
That first conversation, and all the ones we've had since, they were life-changing. I learned so many things I hadn't understood at all. Before this, I'd felt discarded, unwanted, and unloved by my birth family. She opened my eyes to the complexities of the situation. My adoptive father and I have had a tumultuous relationship most of my life, and that is putting it kindly. I've often felt ripped off of the life I could have had, the sisters who would have loved me, the father who would not have scarred me in those ways. That particular pain was addressed a year later, in Berlin again, when I met another one of my sisters. She had recently moved to the US, to California, and we planned a visit to Berlin at the same time. Meeting her was like discovering another piece of the puzzle, forming a deeper understanding of who I am and where I come from. It was behind-the-scenes knowledge of life I left behind, what it would have been like, and a newfound understanding of what it really  means to be me.
My sisters had no part in the decision to give me away. I have nothing to forgive or thank them for, in that sense. They are just people, who are both astoundingly similar to, and remarkably different from me. But they knew things about my story that I didn't. My (adoptive) mom never told me, and, in retrospect, never even knew the full story herself. I think she thought it was something to be embarrassed about, so she never talked about it, and the rare times she did, she spoke of it with a certain reverie, like it was somehow beyond my or her comprehension. I'd inherited her hand-me-down insecurities, and it wasn't until I had the courage to face my own story that I began to understand it. There's nothing bad or shameful about where I come from.
Going to Europe, meeting my sisters, it's the most important thing I've ever done. Everything that has happened since, including my life in Banff today, my plans for Asia later this year, and the hostel I'm eventually going to own in Costa Rica, they all trickle down from that moment in Berlin, when I found the courage to ask my sister, "So, do you remember my adoption?"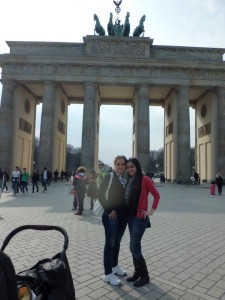 Brandenburg Gate, Berlin. This was my first trip in 2013.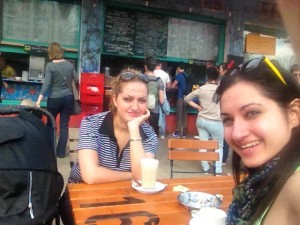 Tiergarten in Berlin, 2013. I miss her and our talks over coffee so much!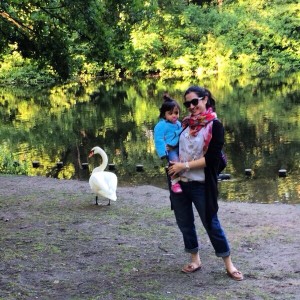 Tiergarten, one year later. My little niece! <3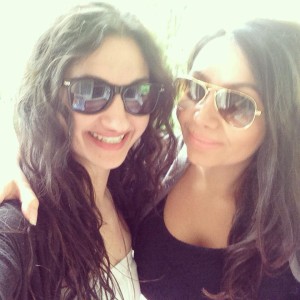 On my sister's balcony. My heart hurts a little looking at these pictures, I miss them so much!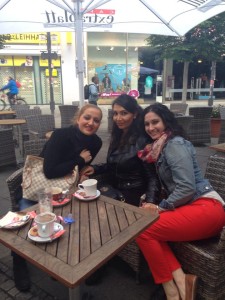 Wilmersdorfer Straße, Berlin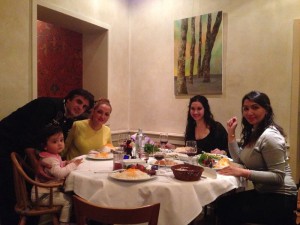 Che-lo Kabab for my sister's birthday!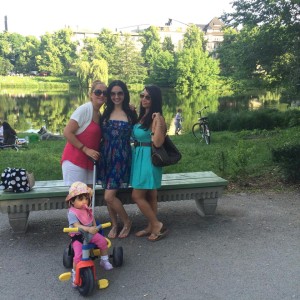 Lietzensee Park, Berlin