Aerie (American Eagle's lingerie brand) recently released a campaign called Aerie Real. They've chosen not to retouch or alter the pictures of the models for their spring collection.* Compare this photo,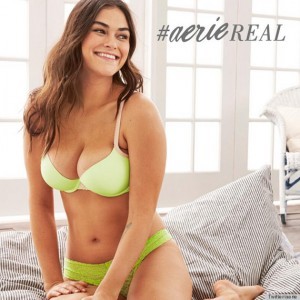 with this one (from a previous ad campaign)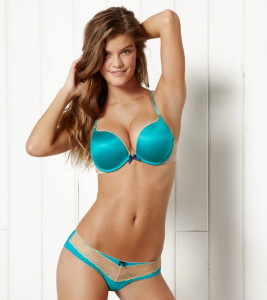 If you think the comparison is unfair because they're different people, have a look at this picture of Candice Swanepoel, a Victoria's Secret Angel, in this ad for VS,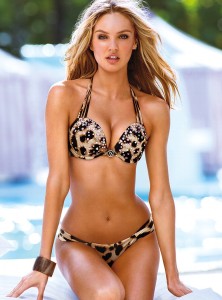 compared with this photo of her at the beach,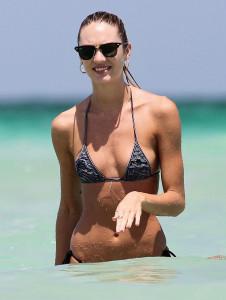 The most obvious disparities are her breasts, hips, and even stomach, but what makes me most upset is that her arms are more defined in the second picture. You could argue it's the angle, but I worked for VS for over a year, so I've seen hundreds of photos of Candice and the other Angels, and I've never seen definition in their arms. It seems strength is too intimidating to be sexy.
Working in retail, I've met thousands of women of every age, race, size, shape, and fitness level. I have never met a woman who is happy with her body. Not once. It's always, "I hate my thighs," or "my breasts are so small," or "I need to lose 10 pounds."
There's a growing revolution happening. We are demanding to be seen as worthy in spite of our imperfections. And why not? Ladies, the image of perfection we've had shoved down our throats since birth isn't all that different from the Salem Witch Trials. I mean, yes, obviously it's a business model, capitalism is involved, money is being made. But, I will argue, it's not just keeping us in debt so we feel pretty, it's also keeping us small by pitting us against each other, and, what I find most troubling, is that it's trying to destroy our potential for greatness by putting our focus on the wrong things. Our negative self-worth is the reason we judge each other, and the reason we keep our "frenenemies" around; we feel better about ourselves if we see ourselves as superior to another woman. Instead of supporting each other, we're breaking each other down.
I, for one, am sick of this shit. You are beautiful, and I wish you could see yourself from your mother's eyes. She knew, the day you were born, just what you could do. She knew you could change the world. So help change it.
*Aerie may not be retouching their photos, but they're still using models who represent a very small portion of the population. One battle at a time, I suppose.